Learn to cancel any applicable future payments and remove access to the Product(s) included with your Customers subscription.
Keep in mind, deleting a Product or Offer will not cancel your Customer's Subscription, whereas canceling the subscription will end future payments. Learn to cancel your Customer's Subscription.
---
In this article:
---
Cancel payments and access
End your Customer's subscription and remove access to the Product(s) included with the Offer for multiple payment Offers and recurring subscription Offers.
Canceling payments from the Purchase Information page on Kajabi will end the subscription for payments processed through both Stripe and PayPal.
Note:
If you are manually upgrading or downgrading a Customer's Subscription, first cancel their original Offer in order for your Customers to purchase the upgraded or downgraded Offer.
To cancel payments and access:
Open the

Contacts

tab from your Dashboard.
Select the Customer from your contact list.
Then, click

Purchases.
Click

view

on the Offer you wish to cancel for your Customer.
Navigate to the top menu of the Purchase Information page.
Click Cancel Payments.
Select the date to cancel payments and access:
End of the Current Billing Period
On a Custom Date
Cancel Now

Then, click Cancel Payments to confirm:
---
Cancel directly in Stripe
Learn to cancel your Customers subscription from your Stripe account.
To cancel a Customer subscription in Stripe:
Log in to your Stripe account.
Search the email address of your Customer and open their Stripe profile.
Locate the Subscriptions

section.
Click the three dots next to the subscription and select

Cancel subscription: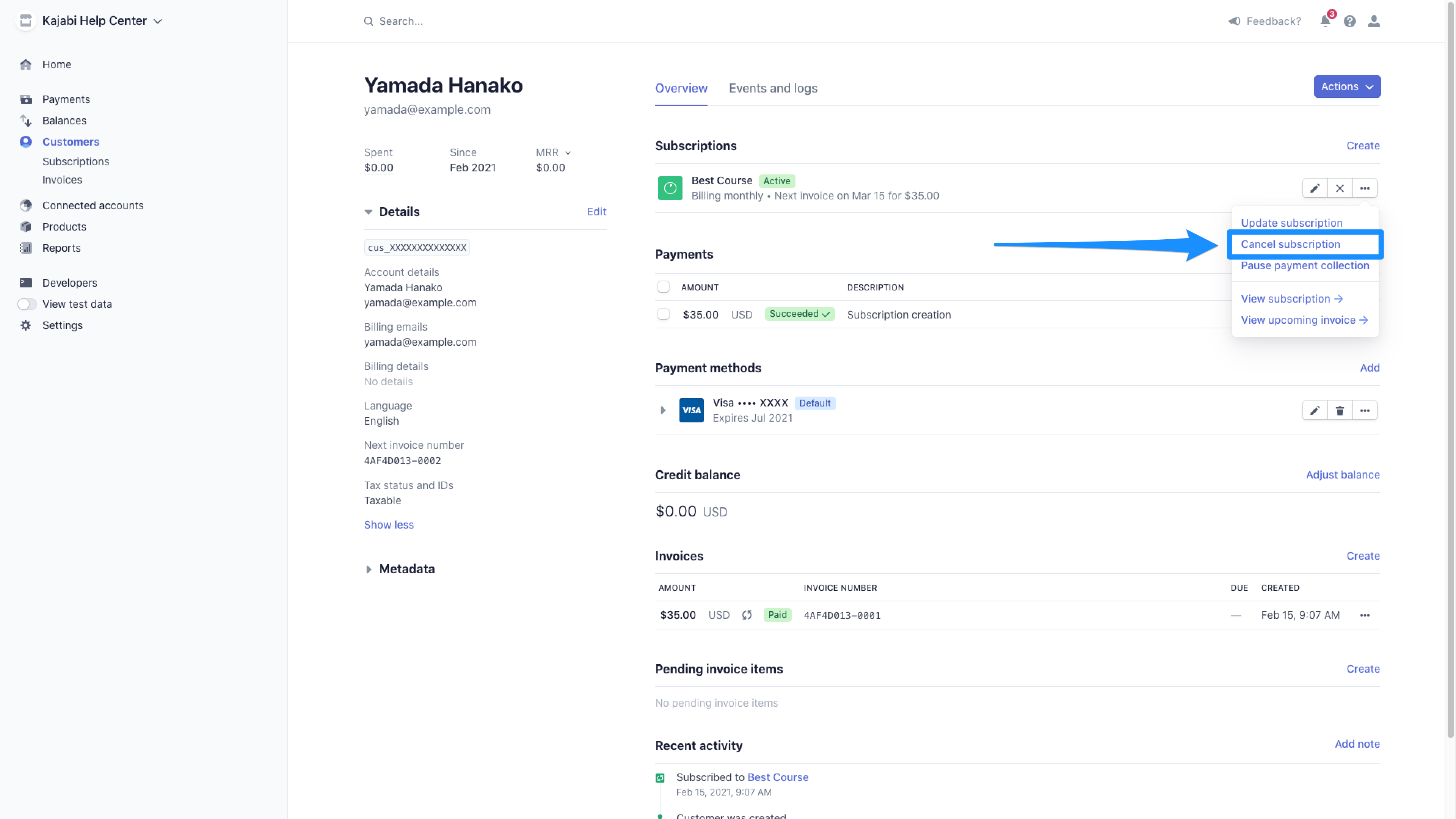 Note:
Canceling your Customer's Subscription directly from Stripe will let Kajabi know to deactivate your Customer's Offer when canceled. This will remove the Products included with the canceled Offer from your Customer's library.
---
Cancel a subscription with PayPal
Learn how your Customers can cancel their subscription from their PayPal account.
To communicate to Kajabi that a Subscription has been canceled, your Customer must manually cancel the subscription they paid for with PayPal in their PayPal account.
How your Customer cancels their subscription in PayPal:
Your Customer must log in to their PayPal account.
Click

Payments

in the top menu.
Select

Manage automatic payments

under the "Automatic payments" section.
Select the merchant whose agreement they want to cancel in the left sidebar.
Click the

Cancel

button.
Confirm their wish to cancel and click Cancel Automatic Payments:
Tip:
You can view the customer's PayPal email address under the Purchases tab of your Contacts tab. Simply click their name within your Contacts tab and select Purchases. There, select View and take a look at their PayPal email address.
And that's how to cancel your Customer's subscription! Please vote below and let us know if you found this article helpful. We value your feedback. Thanks for being the best part of Kajabi!