Learn to add a user menu to the page header for your Members to easily access their user accounts from your page.
---
In this article:
---
What is a user menu?
The User Menu is a navigation menu built specifically for your Members. Within the User Menu, your Members can login and logout of their user accounts on your site and access their Member settings.
Note:
Previewing your page as a logged-in admin will display your uploaded Avatar (if you have uploaded an Avatar to your
Account Details
) or the default Avatar. Members logged into your site will see their uploaded Avatar (if they uploaded an Avatar in their
Member settings
) or the default Avatar.
---
Adding a user menu
Open the Website tab from your Dashboard.
Select the Pages tab.
Open the page editor for your Page. Learn more
Navigate to the sidebar panel and click Header.
Click Add Content.
Select User Menu: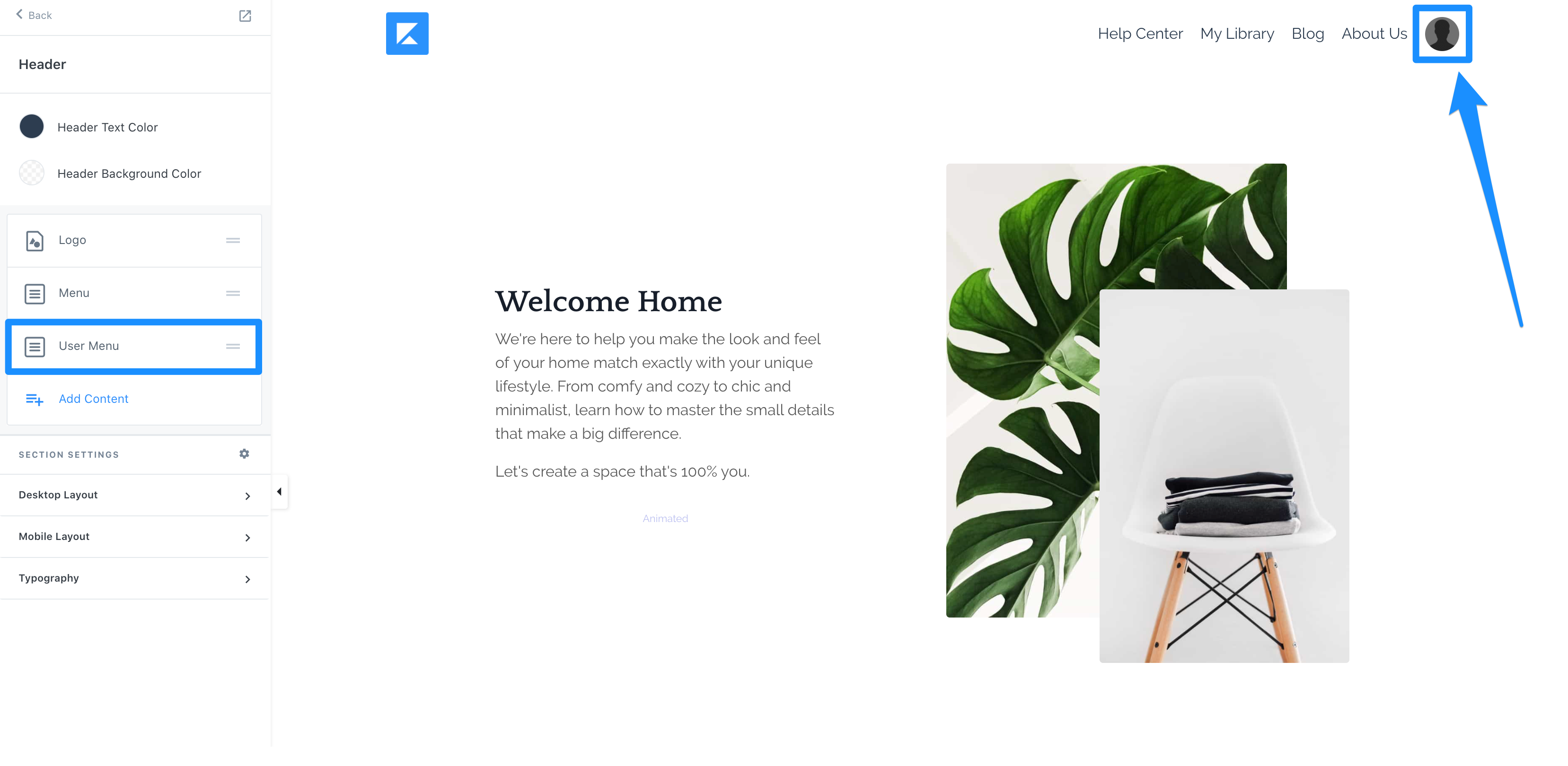 Keep in mind, the User Menu is displayed as the user Avatar. When your page visitors click the Avatar, the dropdown User Menu opens for your Members to:
---
Customizing the user menu
Customize your user menu's text and background color to match your brand and change the language for the menu items.
Dropdown Menu Alignment
Customize the text alignment for the items displayed in your user dropdown menu.
Tip:
Select and save your desired menu alignment. Then, preview your page to ensure that the alignment fits your vision.
Stretch Block
Enable the Stretch Block setting to fill the remaining space of the Header section.
A good rule for using the Stretch Block feature is to enable the Stretch Block feature for the Block on the far left of your Header section.
For example, if you want to have a Logo on the far left side of your header and a Menu and User Menu on the far right side, select Stretch Block for your Logo:
Control the alignment and positioning of your blocks by adjusting the Stretch Block and Block Alignment for the Blocks in your Header.
Text Alignment
Adjust the horizontal alignment of your block in the Header to appear more left, centered, or right-aligned.
Keep in mind, this setting will be impacted by surrounding Blocks and their positioning and alignment.