Maximize your profit by adding Upsells to your order flow. Your customers can choose to purchase additional product(s) after completing their purchase.
---
In this article:
---
Upsells and Downsells
What is an Upsell?
An Upsell is used as a way to advertise another Offer after the initial Offer has been purchased.
A user will complete a purchase and the Upsell will appear as a separate page after checking out and before the account creation page:
The upsell page will ask your customer to make an additional purchase. Your customer can then choose to purchase the Upsell or decline the Upsell.
After which, they will be redirected to the account creation page to set up their account details.
Learn more about what happens when a customer purchases an Offer.
What is a Downsell?
A Downsell is another Offer presented to customers that decline to purchase the Upsell.
This gives you a second chance to make an additional sale if your customer declines the original Upsell.
Downsells are typically lower-priced Offers, a discount on the same Product, or an Offer for a completely new Product.
Learn more about adding and editing Downsells.
---
Adding an upsell
To add your Upsell Offer to a Paid Offer:
First, create an Offer to use as an Upsell.
Then, return to your Offers Dashboard and select the Offer you wish to attach your Upsell to.
Go to the Upsell section and click + Add Upsell Offer.
In the dropdown menu, select the Offer you want to use as the Upsell.
Click the Upsell Offer Title to edit the Upsell Details:
Be sure to activate the Upsell(s) you want to appear during the Offer Checkout Process:
Click the Upsell you attached to your Offer within your Offer Builder.
Make sure the Upsell is Active to ensure your customers will see it when checking out: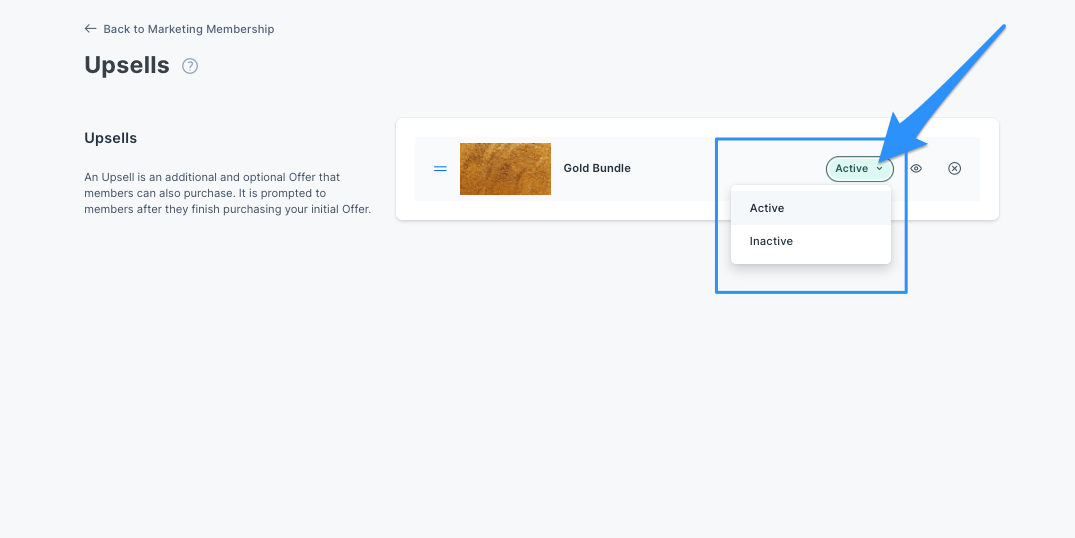 ---
Preview your upsell
View your upsell purchase experience by clicking the "preview" icon to the right of your Upsell status:

If you wish to test your member experience with multiple upsells in your Offer, decline to purchase each upsell to see each upsell page when previewing:
---
Editing your upsell
Once you have added an Upsell to your Offer, you have the ability to edit specific details of the Upsell even further.
To edit your upsell:
Click the Upsell attached to your Offer within your Offer Builder.
Then, in the Upsell page, select the name of the Upsell you wish to edit.
Edit the title, description, CTA text, add a video, and more: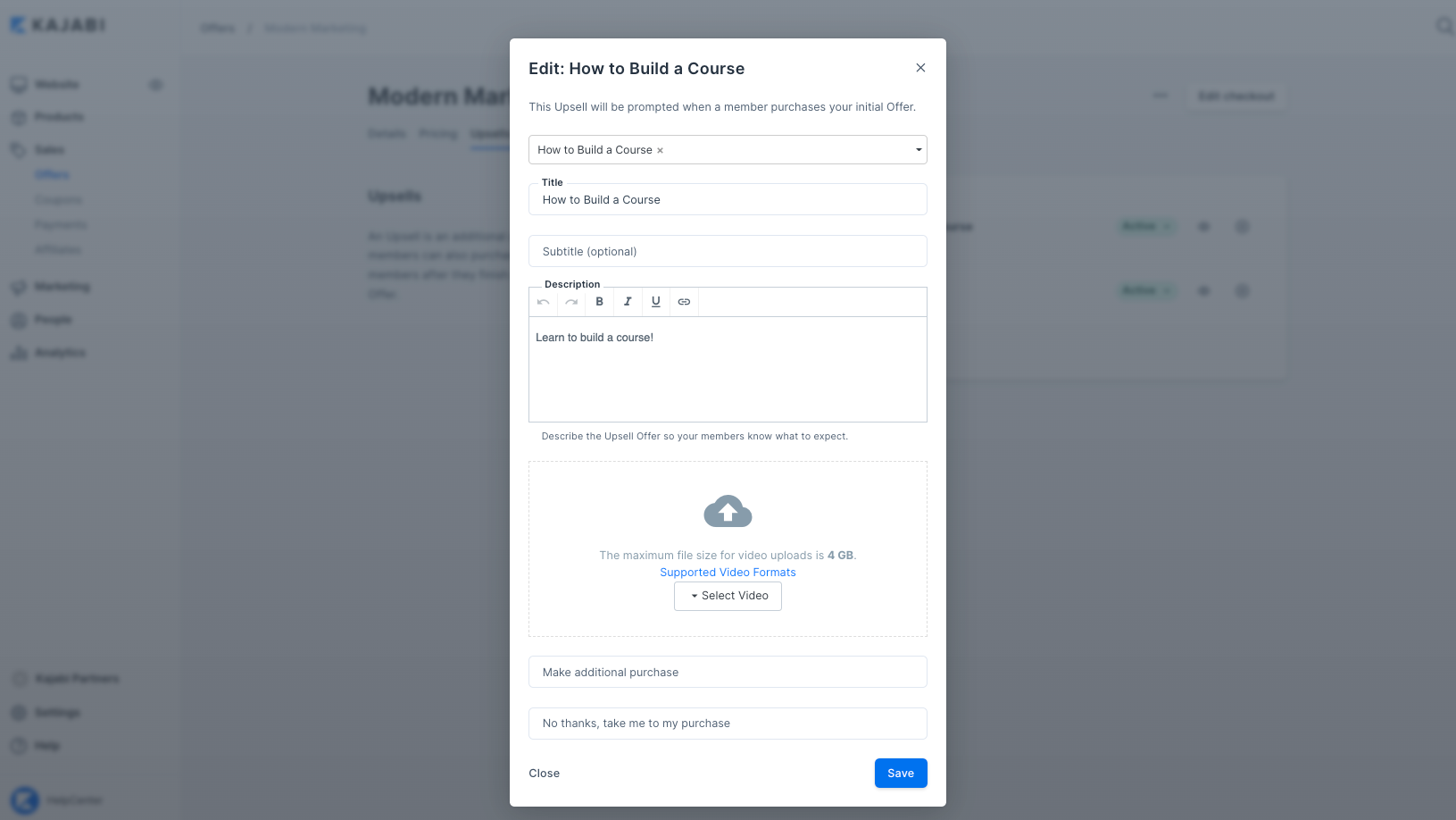 ---
Removing an upsell
To remove an Upsell from your Offer:
Open the Sales tab from the Dashboard.
Click

Offers.
Select the Offer in which you'd like to remove the Upsell from.
Go to the

Upsell

section on the Offer page and click on it.
On the Upsell page, click the … menu

next to the Upsell Offer.
Click Remove to delete it.
Select

Save to keep your changes: