Gain a better understanding of your customer experience when new customers purchase your Offer.
---
In this article:
---
---
Customer purchase overview
You may be wondering what your customers will see and the process they will go through when they purchase an Offer built on Kajabi.
With this guide, you will see a visual demonstration of the entire process to help you understand the typical customer purchasing experience. Then we will break down each step that your customers will encounter when purchasing your Offer.
Below is a demonstration of the complete process your customers will experience when purchasing your course.
Note: The following demonstration does not contain audio.
Customer purchase demonstration:
In this guide, you will find a breakdown of the five-step process your customers will experience when purchasing an Offer from your site.
Note:
Credit card information is intentionally left blank in this demonstration. If you are selling a paid Offer, your customers will not be able to proceed without entering their payment information.
---
Step 1. Checkout page 
The first step in your checkout flow is the Checkout Page. The Checkout Page collects your customer's payment information to purchase the Offer.
Before your new customer can enter their payment information, they may need to sign up by entering their email address.
Update your login requirement for your checkout page to customize how returning customers can log in during purchase. Learn more 
This will ensure that your customer is not an existing customer of your site and will create a new customer Profile with their email. 
After submitting their email address, your customer will complete any necessary fields and choose to pay with a card or PayPal (depending on the Payment Provider you have connected to your Offer: Kajabi Payments, Stripe, and/or PayPal). 
Learn to customize your Checkout Page here.
Note:
If your customer purchases a one-time payment Offer through Stripe, their payment storage experience will be determined by your card storage opt-in settings.
Learn more
---
Optional Step: Purchase Upsell
If you have included Upsell(s) to your Offer, then your customer will be prompted to purchase your upsell before completing their login information in step 2.
If they wish to purchase your upsell, they can select your custom purchase button.
If they choose to include your upsell with their purchase, it will be processed as a separate transaction. Learn more
Note:
If your Original Offer is connected to an Upsell Offer with a different type of payment method (e.g., Kajabi Payments, Stripe, or PayPal) from the Original Offer, your Upsell will use the same payment method used for the Original Offer.
Your customers will also be given the choice to disregard your upsell by clicking your custom cancel button text.
Learn to add and edit upsells to your Offer.
Note:
Add up to 10 upsells to your Offer checkout process. Standard business practice is to use between 3 - 4 upsells and downsells to avoid overwhelming your customers.
---
Step 2. Create login
After purchasing, your customer will be prompted to enter their name and desired password.
The email used to Checkout and the password created on this page will serve as their login credentials: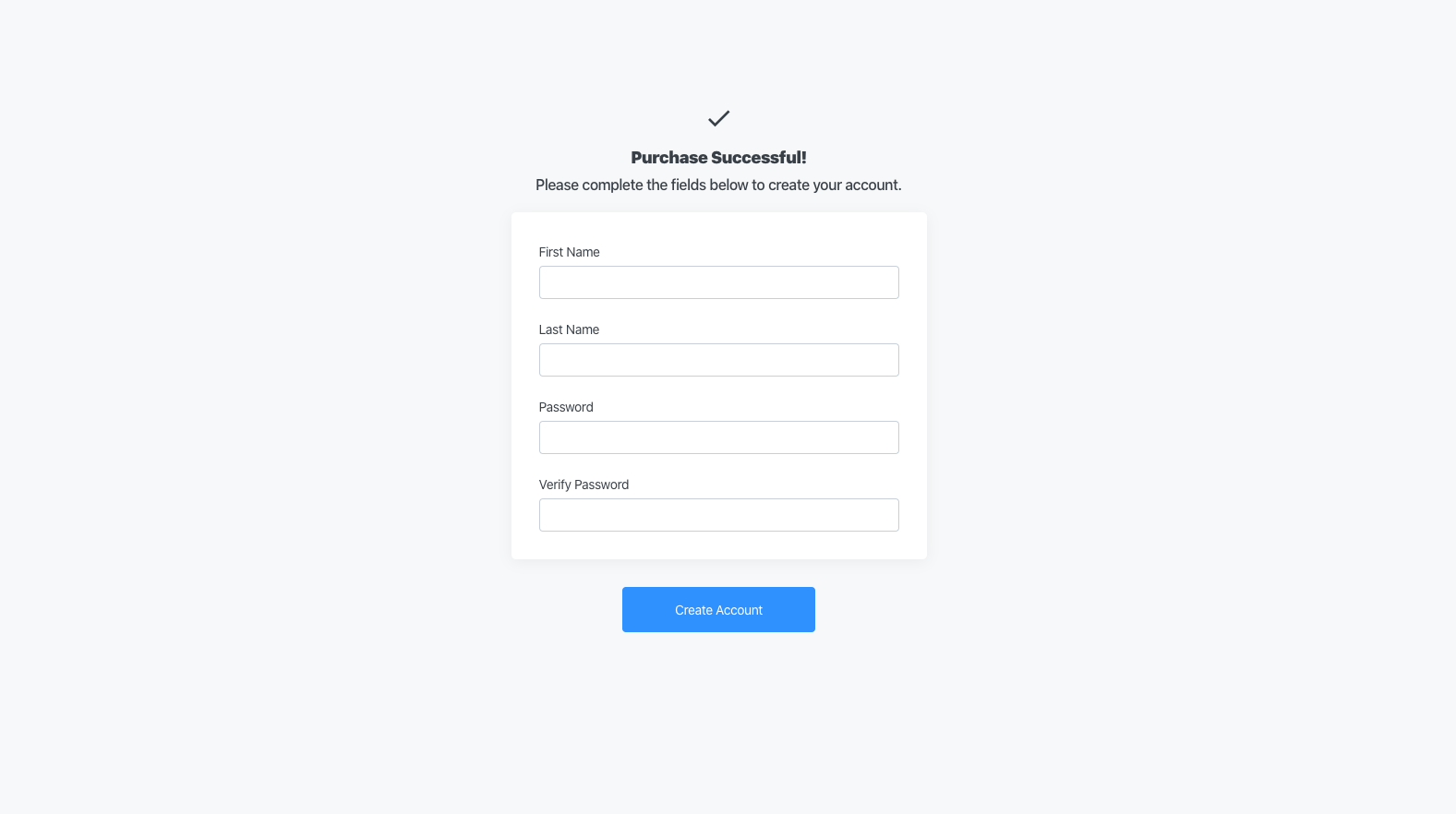 Note:
This page is not customizable
---
Step 3. Library page
After your customer completes Step 2 to create their account on your site, they will be sent to their Library Page to access any Products included in the Offer purchased:
Optionally, send the customer to a custom Thank You Page instead of the Library Page. Learn to send your customers to a Landing Page after purchase.
---
Step 4. Automatic after purchase email
After purchasing the Offer, your customer will be redirected to your Library Page by default.
Simultaneously, your customer will receive an automated After Purchase email in the inbox of the email address entered in the Checkout Page. 
The After Purchase email will contain default copy and a Login button for your customers to log in to their Library to access their purchased Product(s).
Don't want to send this email? Learn to customize your After Purchase Settings. 
After Purchase Email:

Learn to edit your automated emails to align with your branding here.
Looking to be notified when a customer purchases your Offer? Click here to learn how to enable notifications with your Offer Additional Settings.
---
Step 5. Logging in and accessing products
Now that your customer has completed their purchase and created their customer account, they can return to your site to log in and engage with their purchased content!
Tip:
Send logged-in customers directly to their Library with www.yourwebsitedomain.com/library (e.g., www.help.mykajabi.com/library). If your customer is logged out, this link will redirect them to your Login Page.
---
And that's what happens when a new customer purchases your Offer! Please vote below and let us know if you found this article helpful. We value your feedback. Thanks for being the best part of Kajabi!