BETA:
The Offer editor experience has been updated, but is currently in beta and may not appear for your account.
Click here
to enable the updated feature in Kajabi Labs.
An Offer is the price tag to a Product. In order for a customer to purchase a Product (or to be granted access to a Product), there must first be an Offer attached. In this guide, learn how to create an offer on Kajabi.
---
In this article:
---
Step 1. Create an Offer
First, create a new Offer to begin packaging and selling your Product(s) to your customers.
To create an Offer:
Open the Sales tab from your Dashboard.
Select the Offers tab.
Click + Add New Offer in the top right corner of the page.
Complete the prompt:


Then, click Create:
Build your Offer
After creating a new Offer, you can customize your Offer further with a description, adjust Product access, update your pricing, include additional Products, build automations, and more.
---
Step 2. Edit your Offer Details
Update your Offer Details to add an Internal Title to help you and your team easily identify your Offer, update the public Title for your Offer to communicate the Offer to your customers, and include a Description to display on a page with an Offer card.
Offer Description
If you attach an Offer card to a page on Kajabi, the Offer Description will display in the card: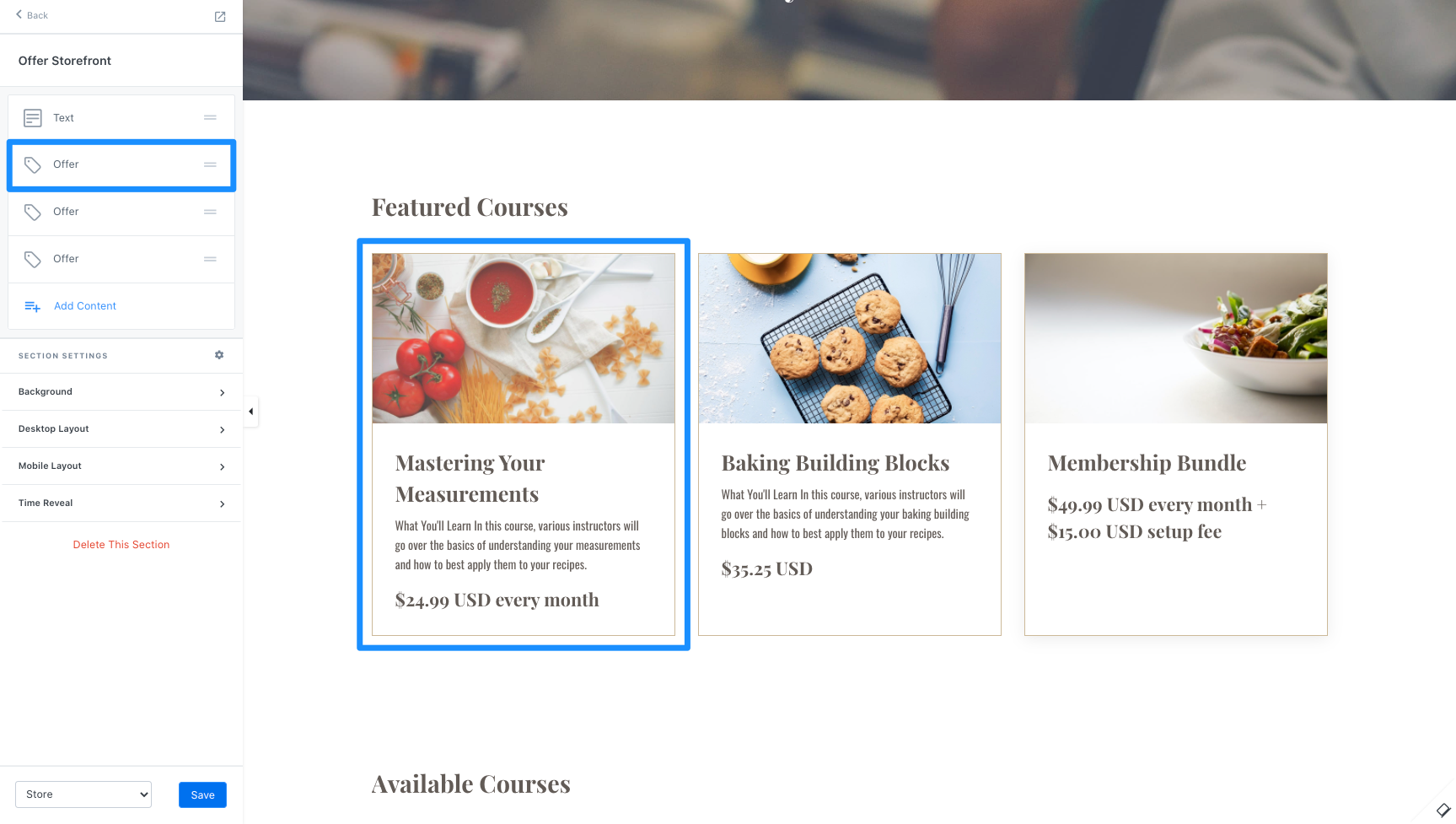 Learn to add an Offers & Pricing Section to your page
---
Step 3. Customize the post-purchase settings
Now that you have created your offer, customize your post-purchase settings to design your Members' experience after purchasing an Offer: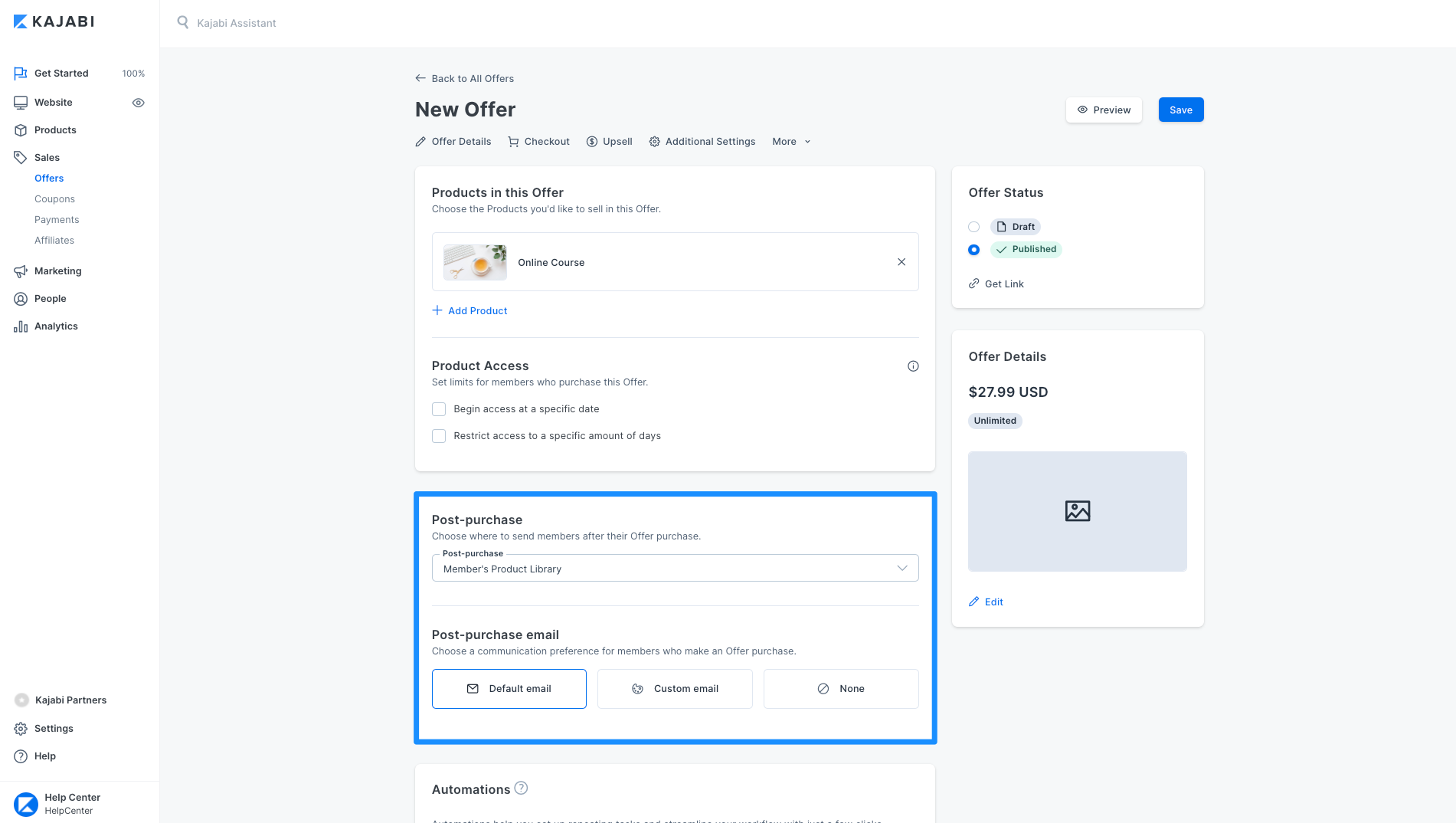 After a Member purchases your Offer you can choose where to send the Member after purchase. In the Offer editor, send your Members to:
Member's Product Library
Existing Landing Page
Custom Thank You Page
Simultaneously you can begin communicating with your Member by sending a default email or a custom email.
This gives you the ability to thank your Member for purchasing your Offer and to provide any additional instructions or resources you may want to include with the Offer.
---
Step 4. Customize the Offer Checkout Page
Design your users experience by customizing the Offer Checkout Page after
customizing the details of your Offer:
Open the Sales tab from the Dashboard.
Click Offers.
Select the Offer you wish to edit.
In the top menu, click Edit Checkout:
Learn more about editing your Offer Checkout Page
---
Step 5. Last but not least, add your offer to a page
First, add an Offer Section to your Page:
From the Dashboard, click the Website tab.
Click Pages and select the Page you wish to edit.
Click

customize to open the Editor.
In the sidebar, select

Add Section.
From the list, select Offer.
Your newly created Offer block will generate at the bottom of the section.
Click

Save

to keep your changes.
Then, select the Offer you would like to display:
In your Page, hover over the Offer block you want to edit and click

Edit.
Navigate to the sidebar and select the dropdown menu under the

Offer

header:
Follow our Guide for an In-Depth tutorial on adding Offers to your Page:
Tip:
Give your customers different payment options to access your Product(s) with the combined power of Offers and landing pages on Kajabi.
Click here to learn more
---
Delete your Offer
Looking to permanently delete your Offer?
To permanently remove your Offer from your account:
Open the Sales tab.
Select the Offer you wish to permanently remove.
Click More under the Offer title.
In the drop-down menu, select Delete

and then confirm that you would like to Delete Offer: