Learn about Double Opt-ins and how to enable and disable a Double Opt-in from your Form.
---
In this article:
---
What is a double opt-in?
Double Opt-Ins can help improve both deliverability and lead quality and help you on your path to GDPR compliance.
A Double Opt-in will automatically send a confirmation email to the address submitted on the Form:

This email will prompt your Form Submitter to confirm their intention to subscribe and receive your sales and marketing emails before triggering any emails you may have set up with your Form.
After the Form Submitter has confirmed their intention to subscribe to your marketing emails, they can begin receiving your email campaigns until unsubscribed.
Learn to view your Contacts Subscription Status
Why use a double opt-in?
By using a Double Opt-In, you can greatly improve the quality of your leads.
When a lead confirms they want to remain a contact on your list, it shows they are interested in your business and will have a much higher likelihood of becoming a customer.
In addition, making a Double Opt-In a requirement will also highly reduce the chances of your marketing emails being flagged as spam and can help you comply with various laws (e.g., the GDPR).
With a Double Opt-in Form, your contacts will be added to your People tab after confirming their desire to subscribe through the email received.
If you choose to disable the double opt-in, new contacts will be added to your People tab upon completion of the Form.
This is considered a single opt-in, as contacts will not be required to confirm their subscription.
---
Enable/disable double opt-in on your forms
To enable or disable double opt-in from your forms:
Open the Marketing tab from your Dashboard.
Select Forms.
Create a new Form or edit an existing one.
Select Double Opt-In (Recommended) to enable or select Single Opt-In to disable.
Configure any additional opt-in settings if applicable.
Then, click Save to keep and apply your changes:
---
Customize your double opt-in confirmation
Customize your double opt-in confirmation email and confirmation page by configuring your Double Opt-in Additional Option settings.
To customize your double opt-in settings:
Open the Marketing tab from your Dashboard.
Select Forms.
Click the Form you wish to edit or create a new Form.
Select Double Opt-In (Recommended).
Then, enable your desired Additional Options settings:


Select Send custom confirmation email to new contacts to craft a custom email to encourage your form submitters to confirm their intent to subscribe to your marketing emails.
If the setting is left unselected, your Form Submitters will receive the default double opt-in email template.
Select Redirect contacts to custom confirmation page to design a custom confirmation page that will display after they have confirmed their desire to subscribe to your marketing emails.
If left unselected, your Form Submitters will receive the default confirmation page.

After selecting your desired settings, click Save to keep and apply your changes: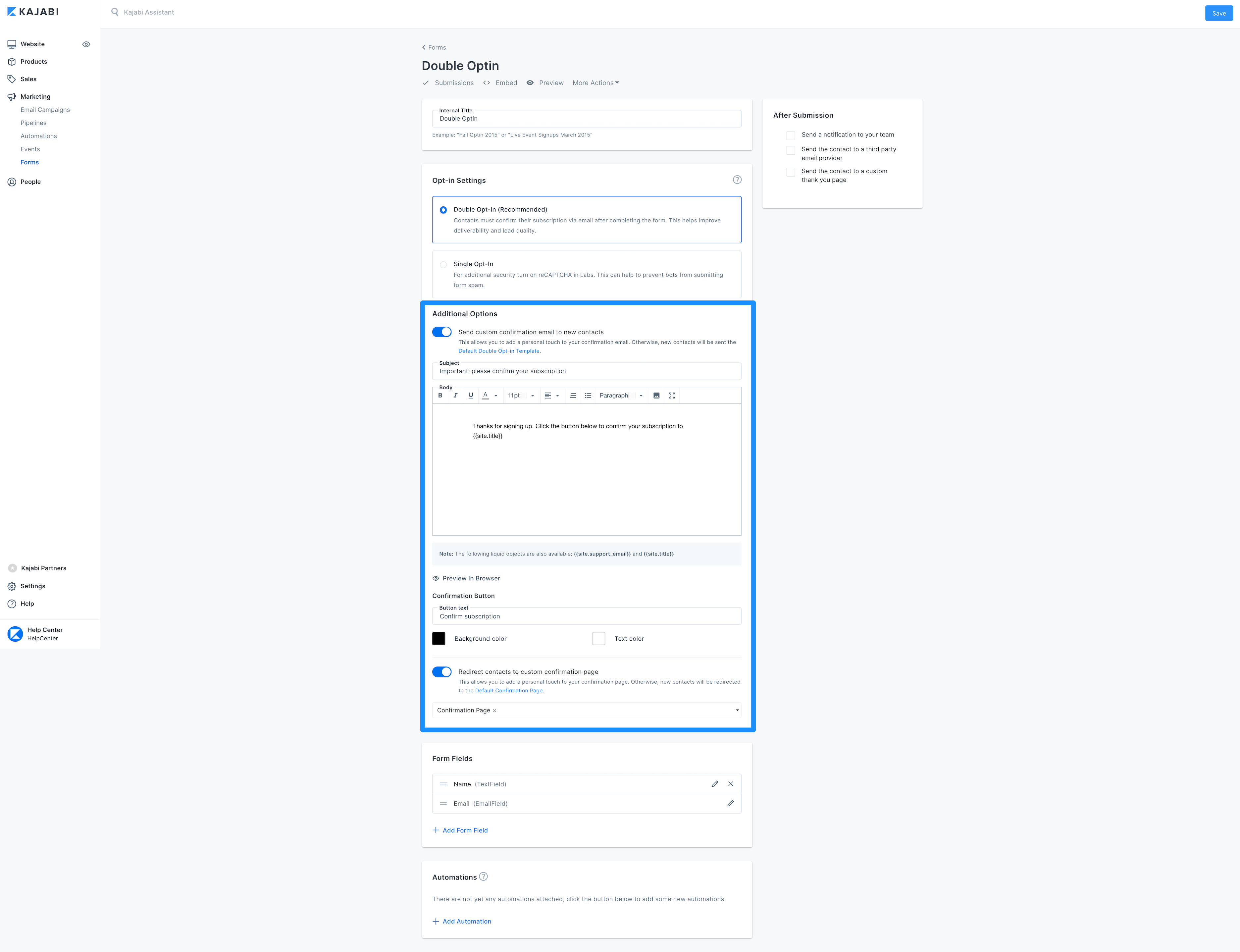 ---
Default double opt-in email
If you choose to send the default double opt-in email after a new contact submits a double opt-in form, they will receive the default double opt-in email template sent by your site: