Learn to customize your Header with the Premier Template.
---
In this article:
---
This article refers to the Premier Legacy Templates, which may be outdated! If you are using the new Kajabi Pages Templates, please refer to the updated guide
here
.
Accessing your Page Header
The Header is a critical element of your website that runs across the top of every web page on your site.
Typically, it contains your logo and site navigation. The Header is a great place to showcase your brand colors and logo, and display announcements you want all of your users to see.
Open the

Website

tab from the Dashboard.
Click Pages.
Select the page you wish to customize or create a new page.
Click

Customize

to open the page editor.
In the sidebar, click

Header:
---
Customizing Your Page Header
In the Header Section, you have the option to add a Logo, a Navigation Menu, a User Dropdown, an Announcement, and a Call to Action.
Logo
Step 1. Select your Logo Type
After adding the Logo Block Type, select:
Step 2. Upload your Logo
Depending on the Logo Type selected:
Upload your Logo Image by clicking Select Image

and choosing a new file or a recent file.
Enter text in the

Logo Text

field.
Step 3. Customize your Logo
Adjust your Logo Height by entering a number using the format 10px or 10. The recommended range is between 30 and 100.
Menu
Choose to Show Menu to display a link list/navigation menu in your Page Header.
Note:
To create and edit your menu links, click Edit your link lists below the Menu Header in the sidebar editor.
User Menu
Check to Show User Menu or uncheck to hide User Menu in your Page Header.
Including a User Menu in the Header of your custom landing page is a great way to give your customers easy access to the Products they have purchased from your site and change their customer settings.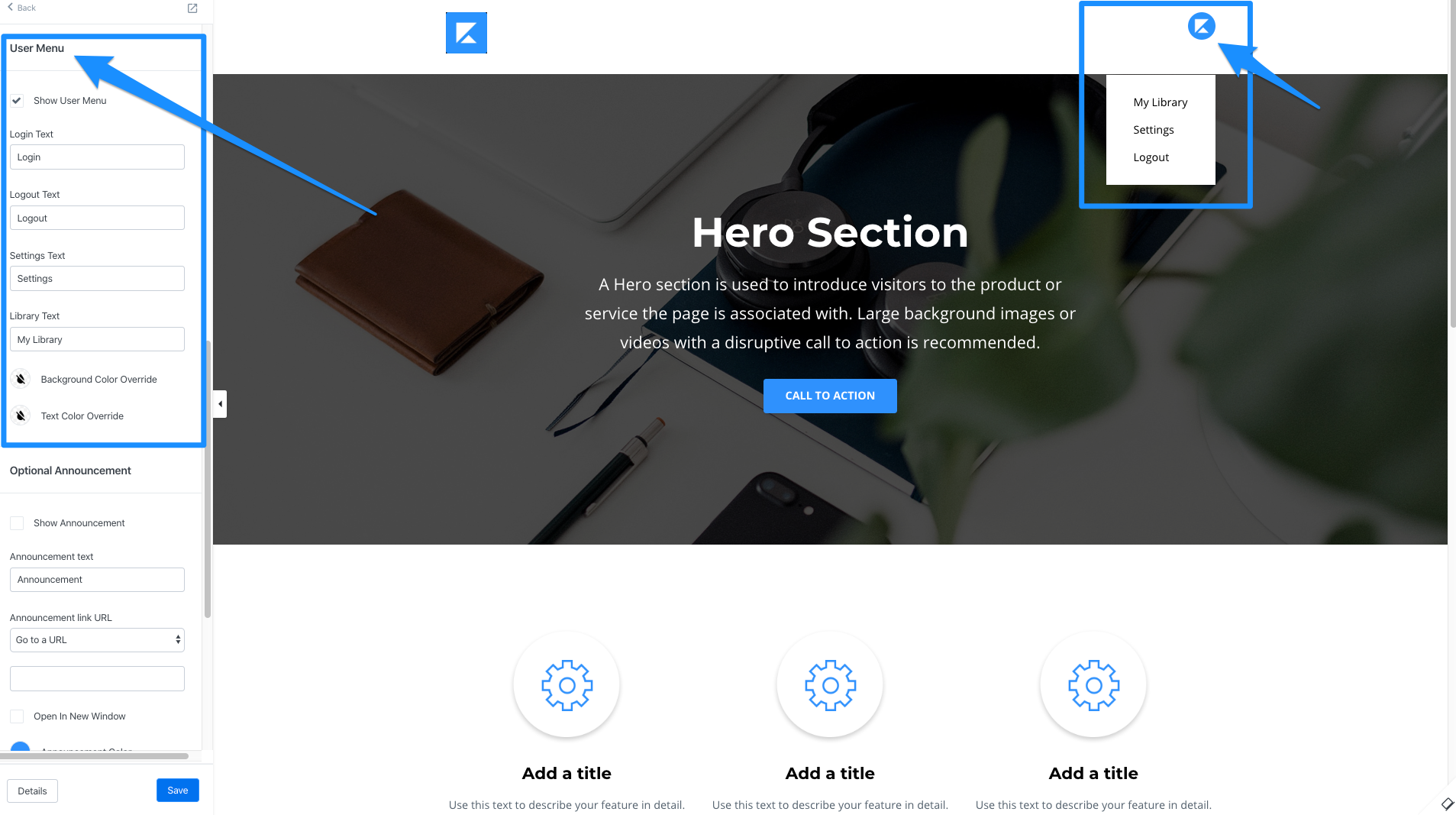 Keep in mind, the User Menu is displayed as the user's Avatar. When your page visitors click the Avatar, the dropdown User Menu opens for them to:
Access the

Library
Edit and view their

Customer Settings
Login/Logout from your site
Customize your User Menu language and colors to match your brand.
Note:
Previewing your page as a logged-in admin will display your uploaded Avatar (if you have uploaded an Avatar to your
Account Details
) or the default Avatar. Customers logged into your site will see their uploaded Avatar (if they uploaded an Avatar in their
customer settings
) or the default Avatar.
Optional Announcement
Display an announcement above your Page Header by checking the Show Announcement checkbox located in the sidebar editor.
Learn to include your Announcement in your Page Header.
Configure an Announcement link to lead to a:
Landing Page
Checkout Page
Downloadable File
URL to another page
Two Step Optin Popup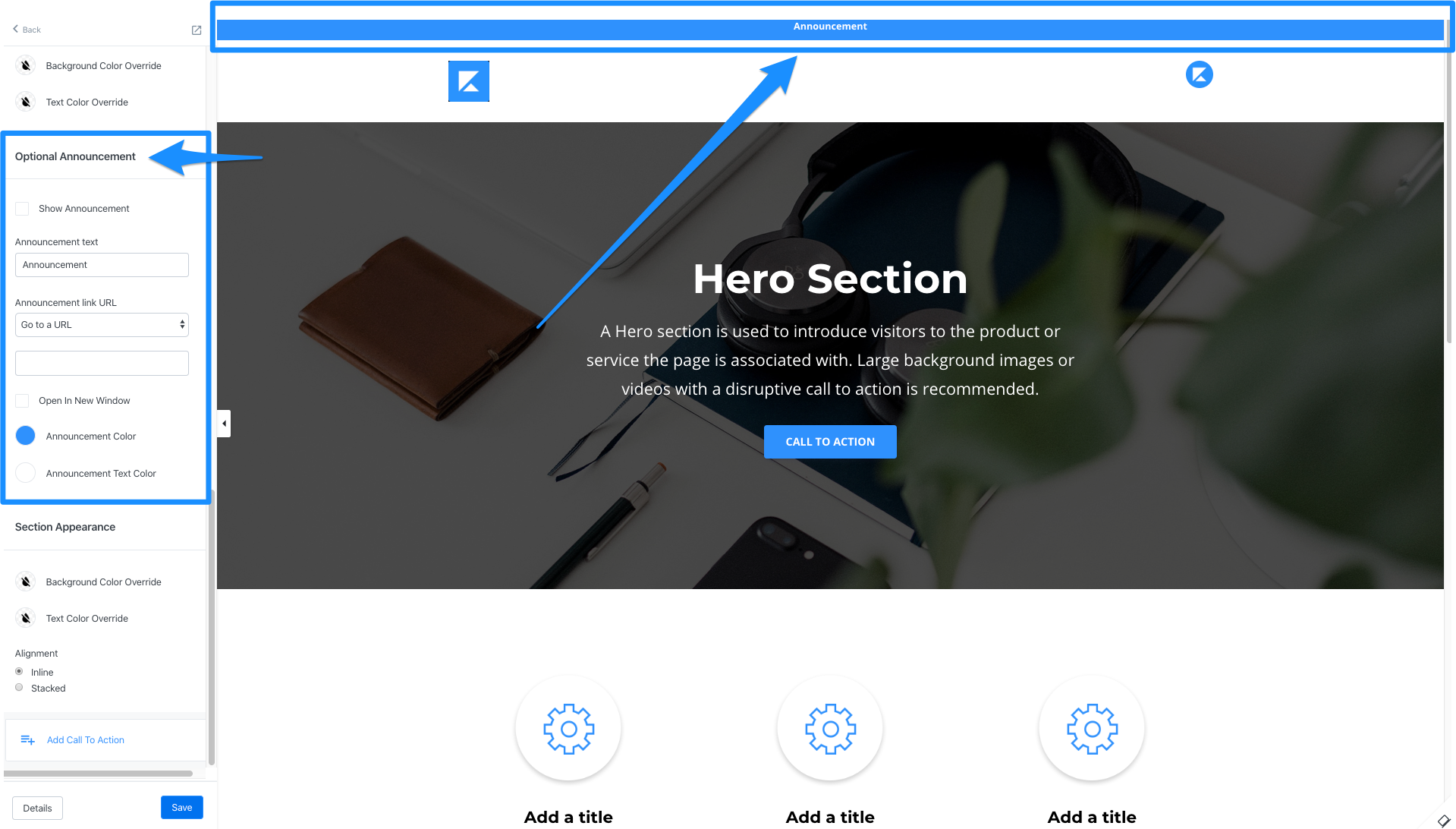 Section Appearance
Configure the color for the Background and Text and adjust the Alignment of the Section.
Alignment:
Inline: keep all blocks in the Header in a single row
Stacked: change the layout to stack all blocks in the Header Section
Add Call to Action
Include a Call to Action to be displayed in the Announcement.
Learn to use a Call to Action with Premier for details.
---
And that's how to customize your Header in a Premier Page! Please vote below and let us know if you found this article helpful. We value your feedback. Thanks for being the best part of Kajabi!