Detaching your Stripe and/or Paypal accounts can put you in a sticky situation if you are not aware of what's at stake. In this article, we cover the consequences of detaching your accounts. If you still wish to detach your Stripe and/or PayPal accounts from Kajabi, please follow our instructions in the guide below.
---
In this article:
---
Detaching Stripe
What happens when you detach Stripe from Kajabi?
Detaching a Stripe account from Kajabi will allow you to integrate with any Stripe account you want. You can use a previously integrated account or integrate with a new one.
All stats (i.e., Sales) from detached Stripe integrations will remain visible.
Existing coupons will function and will be recreated in the new Stripe integration.
After detaching a Stripe account, the detached Stripe account will no longer accept new payments. However, Kajabi will continue to listen to the webhooks from the detached Stripe account.



Refunds, subscriptions, multiple payment cancellations, and pause/resume actions can still be done from Kajabi or your Stripe dashboard for a detached Stripe account.
If an action is taken from the Stripe dashboard, the update will be reflected in Kajabi.

For example, if a subscription is canceled through the Stripe dashboard, the status in Kajabi will change from Active to Canceled.

All automations related to the data from Stripe will be recognized and translated. For example, Stripe will proceed to cancel a subscription if a payment fails.
If your customer has an active subscription from a payment processor that you have detached from Kajabi, the Billing Info section will not be visible or accessible. Your customers will no longer have the ability to cancel or update their cards if their active subscription was processed through a detached payment processor (i.e., detached PayPal or Stripe). Instead, you will need to manually cancel or remove their cards from Kajabi or Stripe.
If you do not have any transactions or coupons created on your account and you wish to move forward with the detachment after carefully considering the points mentioned above, you can disconnect your Stripe account directly from your Kajabi account.
To detach your Stripe account from Kajabi:
Open the Settings tab from your Dashboard.
Select Payment Integrations.
Click View details from the Stripe card.
Click Detach Stripe Integration.
Then, confirm your desire to disconnect your Stripe account by completing the prompt and selecting Delete Stripe Integration: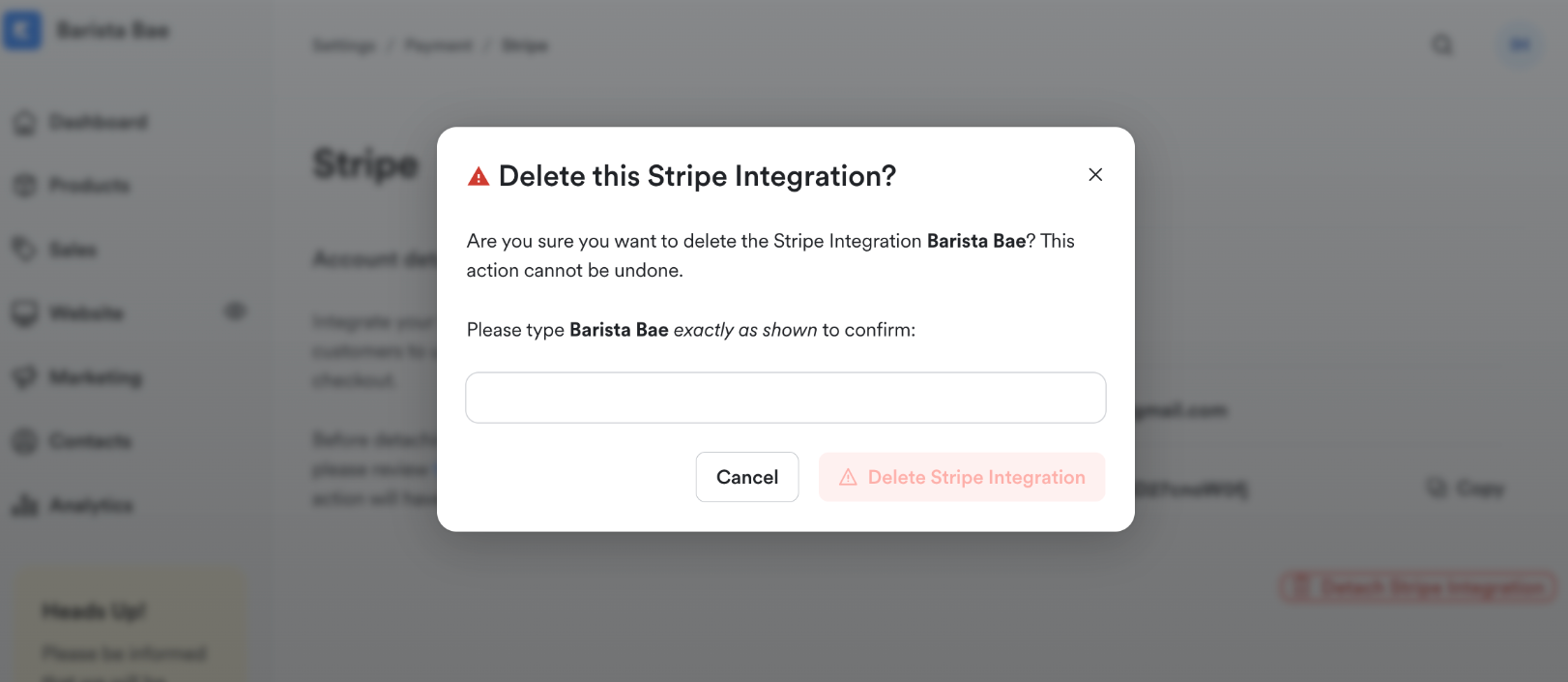 Warning:
It is strongly recommended that you do not revoke access to your detached Kajabi account via the Stripe Dashboard. Revoking access severs ties and you will no longer be able to refund existing transactions or cancel/pause any active subscription or multiple payments in Kajabi. Learn more about the implications of revoking access in
Stripe's Support Documentation
.
---
Detaching PayPal for upgraded accounts
If you wish to move forward with the detachment, you can manually disconnect your PayPal account from Kajabi.
To detach your PayPal account from Kajabi:
Sign into your connected PayPal account.
Go to Account Settings: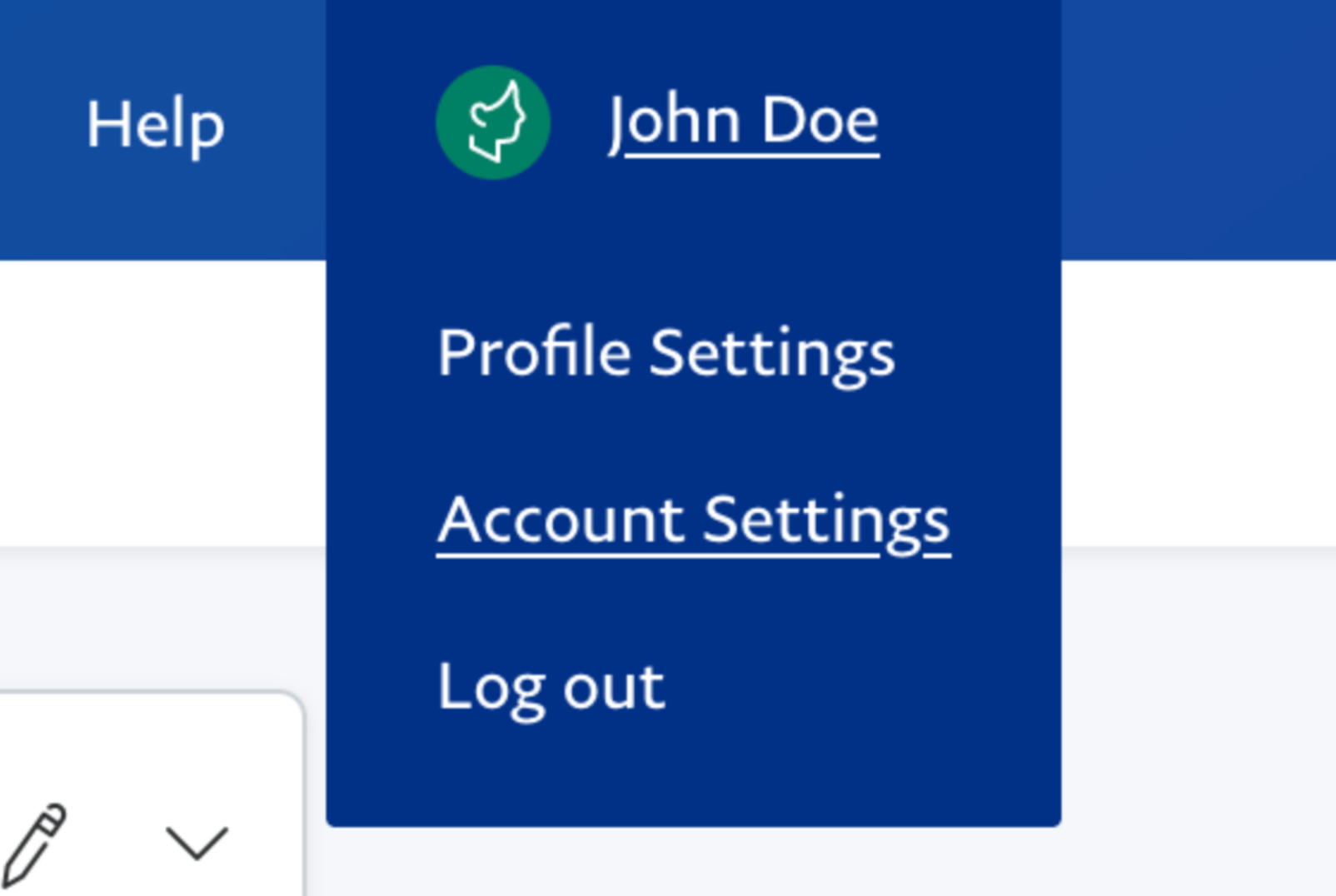 Navigate to Account Access:

Click Change next to "Log in with PayPal".
Then, click Delete for the option tied to Kajabi:

---
What happens if you detach your PayPal account that hasn't been upgraded from Kajabi?
Please consider your detachment request carefully with the following points in mind:
Refunds for purchases made under the current PayPal account will no longer be able to process.
Subscription-based Offers will disconnect from Kajabi and any updates or changes will not reflect on Kajabi. However, continued payments will remain in your PayPal account. Be sure to prepare your members' future payments before detaching PayPal from Kajabi.
Coupons created in Kajabi will disconnect and will no longer function properly.
All purchases made through Affiliates under the current PayPal account will no longer be tracked.
All stats (i.e., Sales) made under the current PayPal account will be removed.
The same PayPal account cannot be reconnected back to the Kajabi site.
If you have upgraded your PayPal account, none of the above disclaimers will apply to you.
Learn more about How to Upgrade Your PayPal Account.
---
Request a detachment for a PayPal account that has not been upgraded and has transactions
Proceed with the detachment process after carefully considering the following points:
If you are the Account Owner,
Your PayPal account has transactions or coupons associated with your account,
You're requesting the detachment for your PayPal account.
If you wish to move forward with the detachment process and you meet the criteria above, please reach out to our Support team.
To proceed with the detachment process we require the following information to be copied and completed in your request to our Support team:
I have read the disclaimers listed in the Kajabi Help Center article, Detaching a PayPal account that hasn't been upgraded, and I agree to continue with the payment processor detachment with this information in mind. Here are the details of my request:
What is your Site URL?
What is your Site Title?
What is your Reason for Detachment?
Are you the Account Owner?
What is your Contact Email?
To proceed with the detachment process, our Support Team must receive confirmation that you understand the ramifications of this action as listed above, and you must be the Account Owner.
---
And that's how you can detach Stripe and PayPal from Kajabi! Please vote below and let us know if you found this article helpful. We value your feedback. Thanks for being the best part of Kajabi!