Learn to add a Link List Block (i.e., navigation menu) to your Sections.
---
In this article:
---
What is a link list?
A Link List is a navigation menu built to display your desired links to help your visitors easily navigate across your linked pages: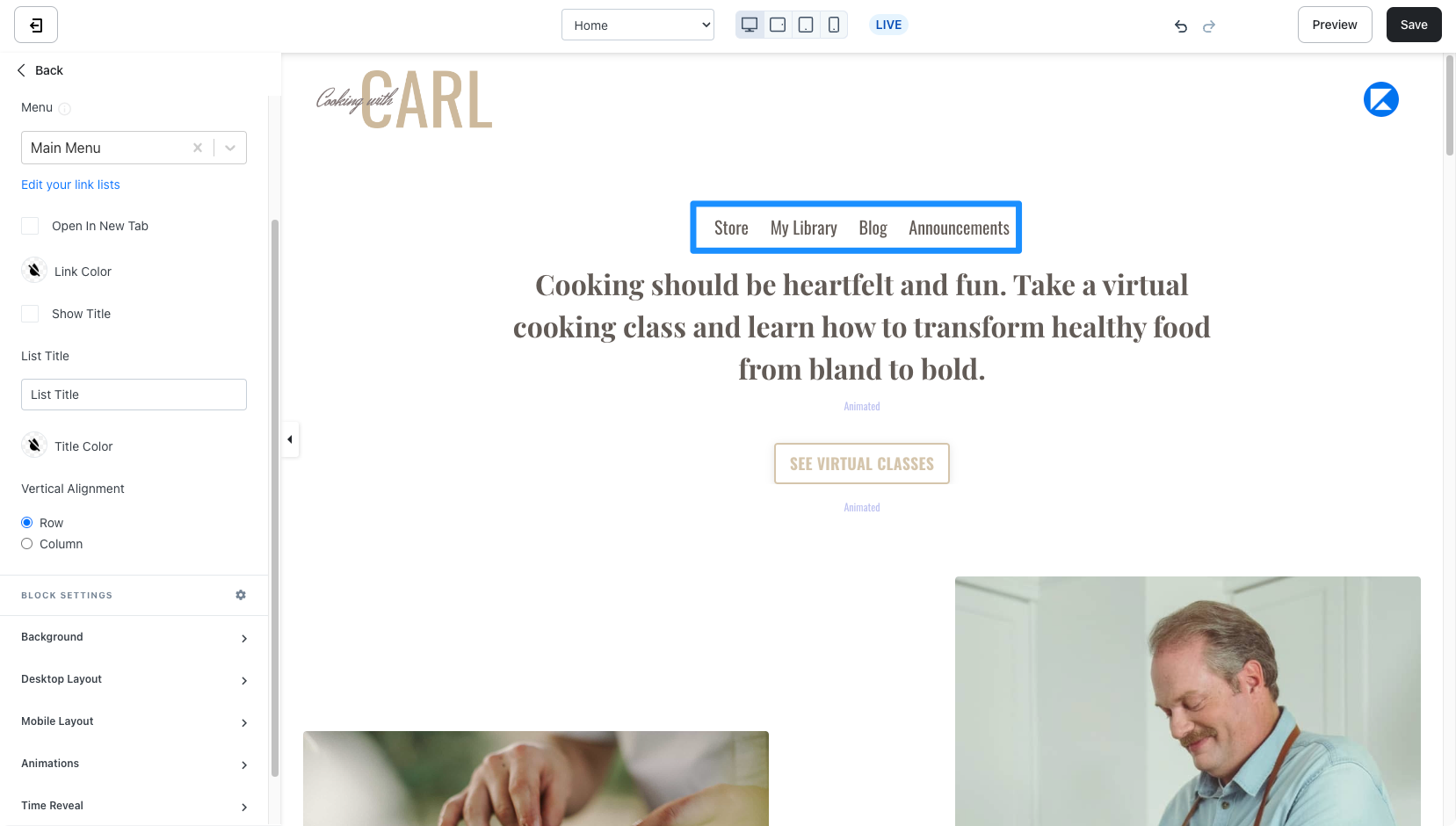 ---
Adding a link list
Open the

Website

tab from the Dashboard.
Select the Pages tab.
Open the page editor for your Page. Learn more
In the sidebar panel, click the Section you want to edit or

create a new Section.
In the sidebar, click

Add Content.
From the list, select

Link list.
Your newly created Link List Block will generate at the bottom of the Section.
Click

Save

to keep your changes:
Note:
The Link List Block may not be available with your page template version. If you don't see the Link List Block, you may need to create a new page with the latest version of the Kajabi Page Builder to include a Link List Block on your page.
---
Customizing your link list
Customize your Link List Block by adjusting the width, selecting your menu, branding your links, adjusting your list vertical alignment, and configuring your Block Settings:
Select menu
Select the Link List (or navigation menu) used for your Block.
To create, customize, and change the menu used in your Link List Block learn to customize your Website Navigation Menus.
Note:
Quickly navigate to your Website Navigation Menus from the Dropdown Menu Block by clicking
Edit your link lists
directly below the Menu field in the sidebar editor.
Link color
Brand your link colors by opening the color wheel.
If you prefer to use a custom color, click the color wheel and then either enter your RGB color code or use the sliders to choose your color.
The

square box

allows you to adjust the brightness and saturation of your color.
The

horizontal rainbow bar

allows you to select the hue.
The

horizontal gradient bar

allows you to select the opacity of your color.
Show Title
Display a title above your Link List, enter your List Title, and customize the color of your Link List Title.
Be sure to select Show Title to display your link list title on your page:
Vertical alignment
Change the appearance of your Link List to display in a row or as a column:
To adjust the look and feel of the Block, configure your Block Settings by customizing:
---
And that's how to add a Link List Block! Please vote below and let us know if you found this article helpful. We value your feedback. Thanks for being the best part of Kajabi!