BETA:
This feature is currently in an exclusive beta testing phase. After the exclusive beta, Popup Checkout will be available to all Kajabi Heroes.
Maximize conversions with Popup Checkout, a seamless checkout solution that pops up from any fully customized page on your website to help keep your brand consistent.
---
In this article:
---
Popup checkout
The Popup Checkout allows you to trigger a checkout form to pop up from any Kajabi Landing Page, Website Page, or Funnel Page - really anywhere you can add a Call to Action button! 
Popup Checkout enables flexibility in customizing your checkout experience through Kajabi, empowering you to fully leverage your brand and grow your business.
What's coming soon?
Popup Checkout is still being built while Heroes are beta testing. The following features are in the works and will be made available soon!
---
How to set up a Popup checkout
To set up your Popup checkout:
Navigate to the Website tab from your Kajabi Dashboard.
Click Pages.
Select the Website or Landing tabs to add your checkout form on a website or landing page.
Add a Call to Action button or Image to your page.
Learn to add a call to action or image.
Set the "Button action" or "Image action" to Open Popup Checkout.
Select the Offer you wish to use for the checkout Popup.
Then, click Save to keep and apply your changes: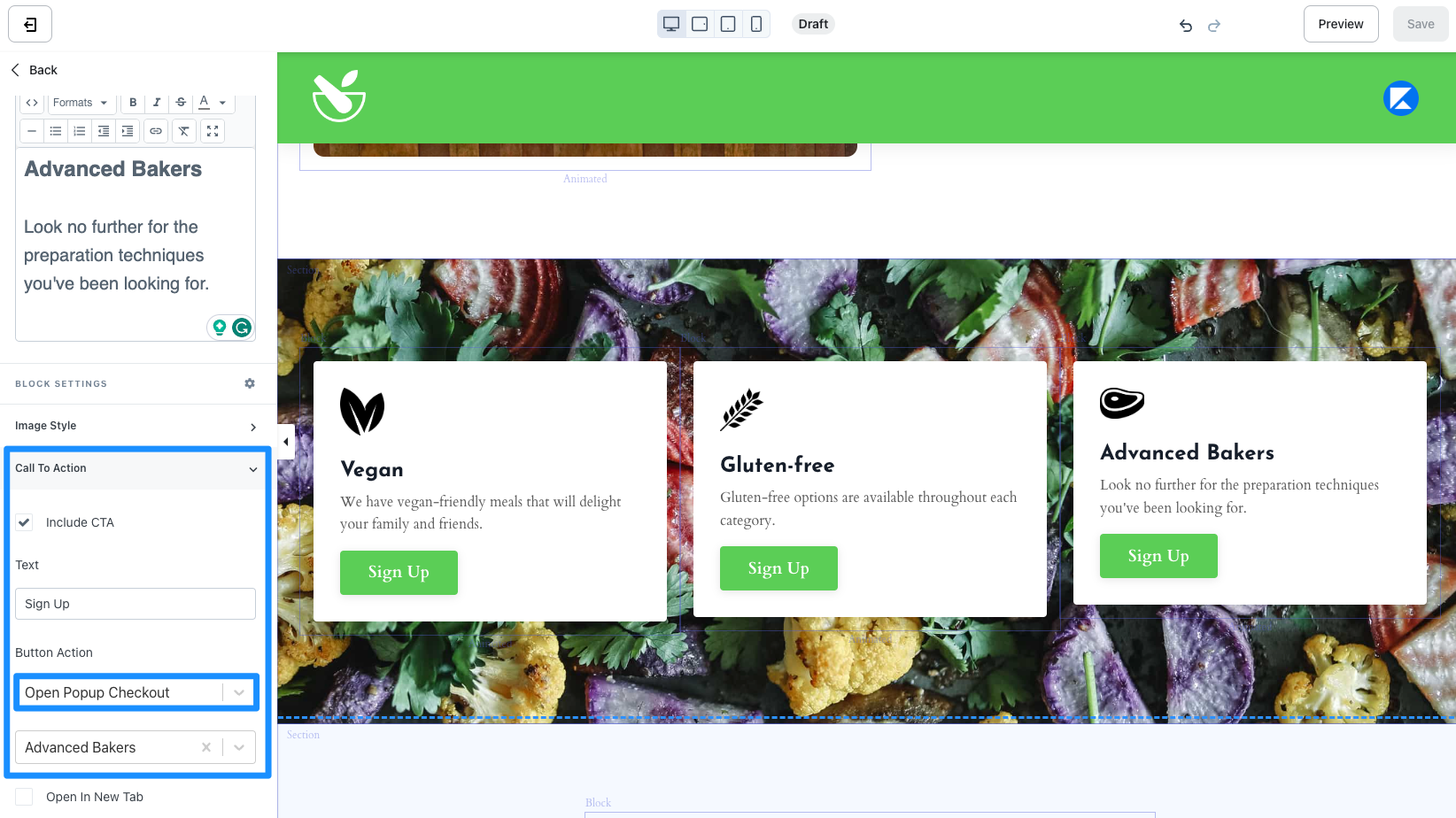 Your button or image will now trigger a Popup Checkout form when clicked.
Note:
Selecting "Open Popup Checkout" for your Button Action will display the Popup Checkout over the page. The "Open Popup Checkout" setting will override the "Open In New Tab" and will not open a new tab if selected.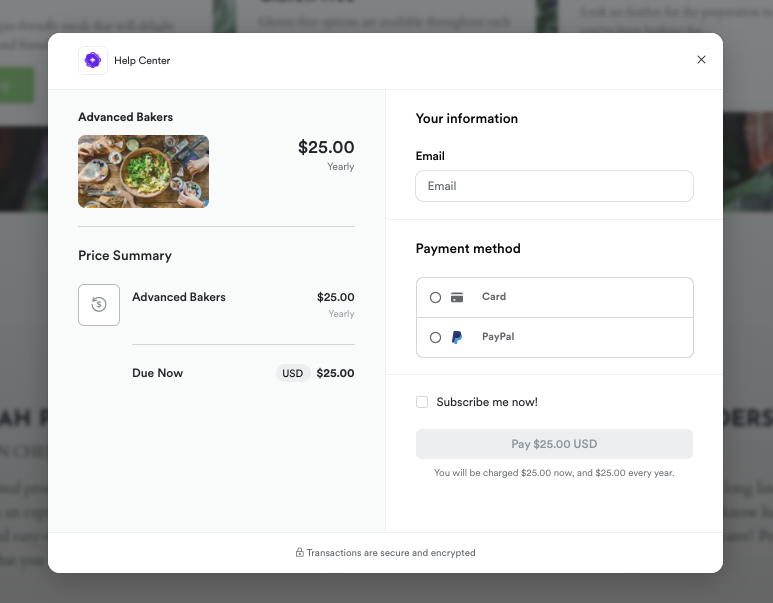 Note:
Customizing your checkout button text in the
Checkout Page Editor
will display your custom text in your Popup Checkout button.
---
Popup checkout FAQs
Can I use both Popup Checkout and the traditional Offer Checkout Page?
A great perk of Popup Checkout is that it operates independently of your current checkout page. So your current checkout page will still work while you use Popup Checkout. You can also set up multiple pages with the same Offer to try different page designs.
What pages will Popup Checkout work for?
Popup Checkout is compatible with all Kajabi page types, including:
Landing Pages
Website Pages
Funnel Pages
Where will my customer land after making a purchase through Popup Checkout?
Your Offers settings will determine the Post-Purchase page. If your Offer is set up to go to the Member's Product Library, a Thank You Page, or a Landing Page, that's where they will be redirected.
Does Popup Checkout work with Kajabi Payments, Stripe, and PayPal?
Yes, the Popup Checkout supports all the payment processor options.
Is Popup Checkout only available if I use Kajabi Payments?
During the exclusive beta, Popup Checkout is only available to Kajabi Hero Live ticket holders and active Kajabi Payment Beta Testers. 
Want early access? If you're in the US, join the Kajabi Payments waitlist to be among the first to test this feature.
After the exclusive beta, Popup Checkout will be available to all Kajabi Heroes.
Do Upsells and Downsells work with Popup Checkout?
Upsells and Downsells seamlessly integrate with Popup Checkout using the same post-purchase flow that's available with the Offer Checkout Pages.
I changed the Login Requirement so that returning members must log in and I collect the password of new customers. Will that work with Popup Checkout? 
No, and Popup Checkout will never require your customer to log in, regardless of how you set up the Login Requirement on the Offer. Did you know that not requiring returning members to log in, decreases friction? We've seen 6% higher conversion rates when returning members aren't required to log in. 
New customers will have the same post-purchase experience as the current Offer Checkout Page when login is not required. They will be directed to the Create an Account Page after they have completed their purchase. Learn more.
Will Popup Checkout work with my custom theme?
Yes! Popup Checkout is fully compatible and designed to seamlessly integrate with custom themes.
If I have styling CSS code in the checkout tracking code setting, will it work with my Popup Checkout?
The Popup Checkout will disregard any CSS placed in the tracking code setting.
We don't recommend using custom styling code on the Offer Checkout Page as it is not supported by Kajabi and may cause undesired results.
I changed the mobile checkout layout on my Offer. Will Popup Checkout honor these settings?
Popup Checkout does not currently support the option to flip the order of the mobile view.
The Popup Checkout offers a unique and streamlined checkout experience that is optimized for efficiency and convenience.
The mobile checkout layout settings is still supported on the traditional Offer Checkout Pages.
Can I process a transaction on Popup Checkout when previewing my landing page?
No, you will need to exit preview to process a transaction. We recommend opening a new browser window in incognito mode to process a transaction.
Does Popup Checkout work with the Facebook Meta Pixel or Google Analytics the same as the Offer Checkout Pages?
During the beta phase, our team is actively exploring the integration of Popup Checkout with various event tracking tools, including Meta Pixel and Google Analytics. Therefore, you may notice the data isn't the same at this time.
---
And that's how you can create a Popup Checkout to enhance your customer experience! Please vote below and let us know if you found this article helpful. We value your feedback. Thanks for being the best part of Kajabi!