Learn to create a Digital Product in Kajabi to offer your customers.
---
In this article:
---
What is a Product?
A Product in Kajabi can be anything from an online course, resource center, membership, community, or teaching tool to deliver your value digitally to your customers.
Creating a new Product
Open the Products tab from the Dashboard.
Click + New Product.

Select the Product Blueprint that best fits your vision.

Click Generate.
Title your Product and click Save:
Tip:
Pick a simple and memorable title for your Product. But don't worry too much about this now, you can always go back and change it later by
Editing your Product Details!
---
Product blueprints
Product Blueprints are pre-made and fully customizable outlines that we have ready for you to help make creating your course a breeze so you can focus on your content! Click on the Product tab to get started.
Creating a Product using blueprints
Community
Our newest product! Community is a space inside your Kajabi site to foster communication, collaboration, and creativity among your users. It is comparable to an online forum or Facebook Group and acts as a product within your Kajabi site. You will now be able to build, host, and facilitate your own online community within Kajabi.
Mini Course
A short, 1-Category course with a more concise amount of Posts. A great solution for a quick overview product that will get your message across quickly and efficiently. A great template to utilize to offer a less expensive course.
Online Course
A longer, more immersive online course experience for your customers. This blueprint provides you with 5 separate categories to help deliver a very organized and in-depth starting point.
Evergreen Training
This Product blueprint allows you to drip the contents of your course over time to your customers. This method helps increase engagement by regimenting the flow of content.
Start from Scratch
A blank canvas that allows you to start from scratch and structure your course how you want it from the beginning. This is a great option if you already have an existing course you are moving over from another platform or already know how you wish to structure and outline your new course.
Membership
A visual-based product that is built for evolving content and allows your subscribers to access content on-demand. A great place to keep and manage resources you want your members to be able to access.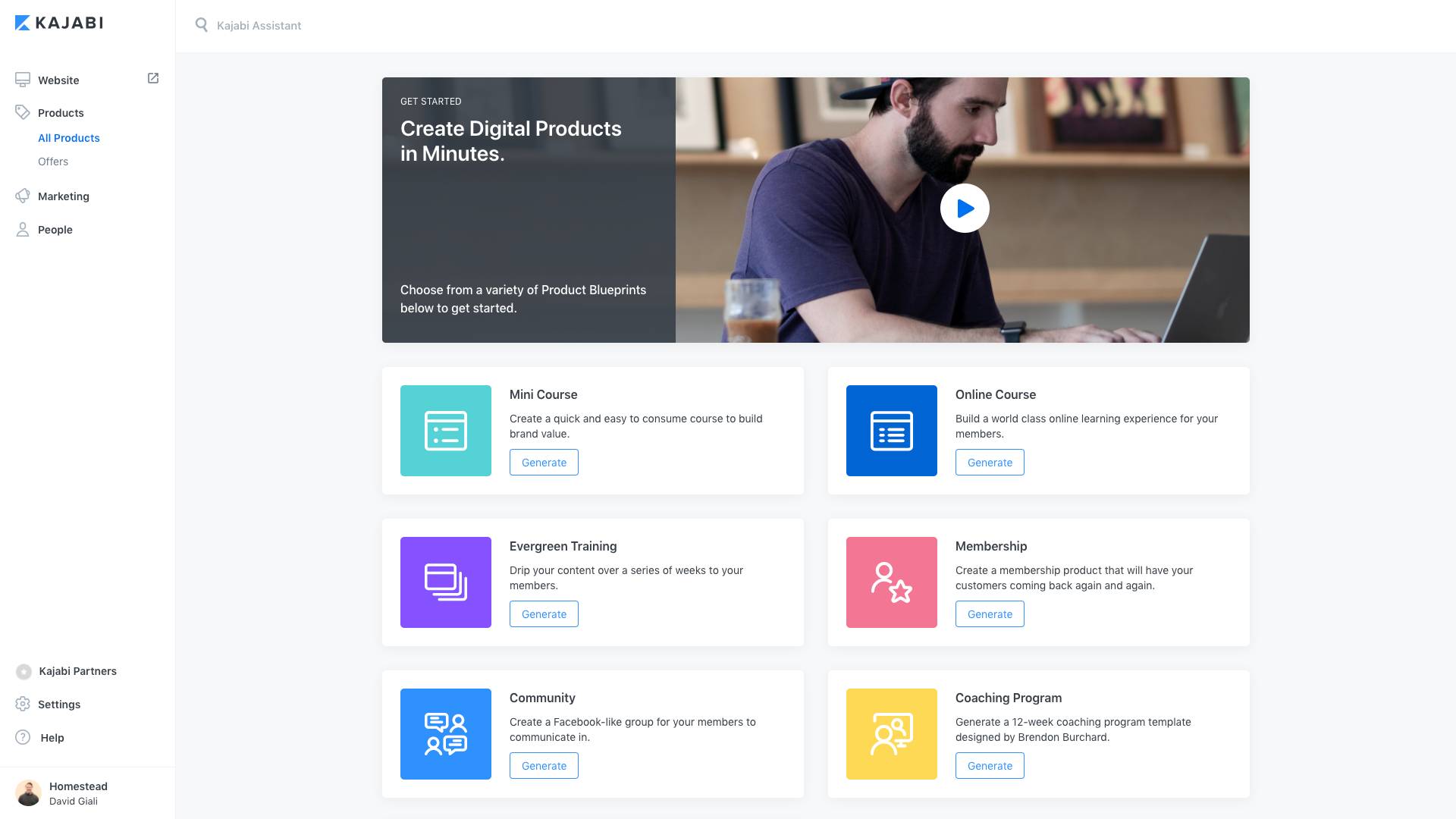 Note:
The Product Blueprint will automatically create relevant Categories and Posts to go along with the theme of the Blueprint as well as organize and order all of the components for you!
---
Adding Categories and Posts
Click the plus icon next to Product Outline to add a Category:
Click the plus icon next to the Category title to add a Post or Subcategory:
Learn more about Product Categories and Product Posts
To Delete a Product:
From your dashboard click on the

Products

tab.
Hover over a Product and click the ….
Select

Delete: