Learn to create a Multiple Payment Plan for Members to pay a monthly fee for a specified number of months to access your content, services, events, and more.
Note:
Be sure to connect your site to your Stripe or PayPal account to edit your Offer price.
---
In this article:
---
Note:
This guide refers to the Price Editor in the Offer Builder to create a multiple payment plan for your customers. If you wish to create multiple Offers onto a single Sales Page to provide different pricing options for your customers
click here
to learn more.
Editing your price: Multiple payment
Open the Sales tab from the Dashboard.
Click Offers.
Select the Offer you wish to edit or create a new one.
In the Offer Editor, click Edit Price.
Select Multiple Payments:
---
Customizing your multiple payment offer
Selecting Multiple Payments for your Offer will charge your Members monthly until the number of payments is reached.
The first payment will be processed immediately after checkout and the following payments will be billed each month on the same date following the initial purchase.
Members will maintain Product access until their subscription is cancelled, the Offer is revoked manually, or access has been restricted to a specific amount of days.
Customizing your Multiple Payments Plan:
Choose a plan - If you have saved a Multiple Payment Pricing Plan for the Offer previously, you can select it in the dropdown menu.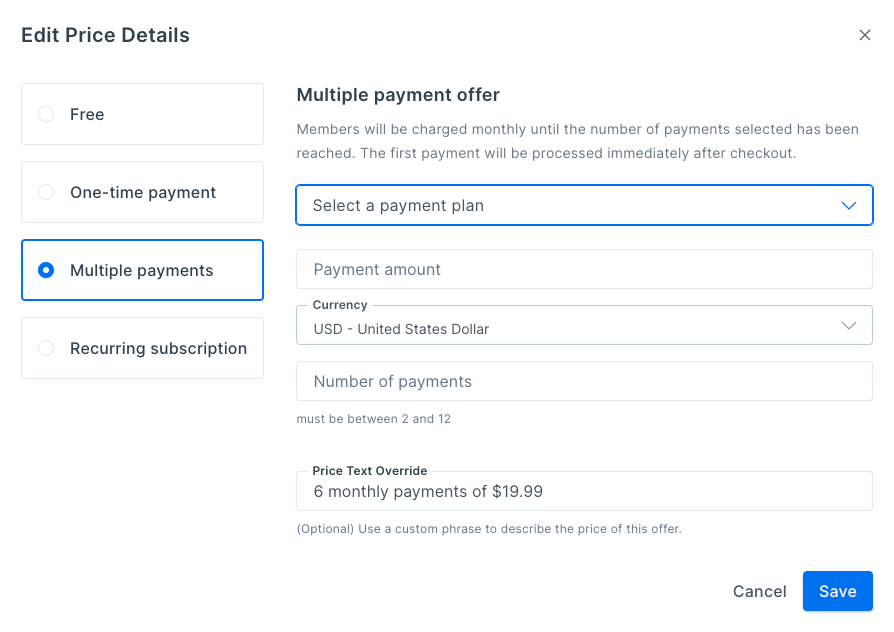 Otherwise, select Create a new payment plan from the dropdown menu and enter:
Payment amount - Specify the price for each payment (e.g., 6 monthly payments of $19.99; $19.99 is your specified payment amount.)
Number of payments - Must be between 2 and 12 monthly payments.
Currency - Select the currency for the Offer.
Payment Method - If you have connected Stripe and PayPal to Kajabi, specify the payment processor available to purchase the Offer.
Price text override - Use a custom phrase to describe the price of the Offer (Optional).
Click Save when you are finished customizing.
After completing your Offer, edit and preview your Checkout Page. Learn more